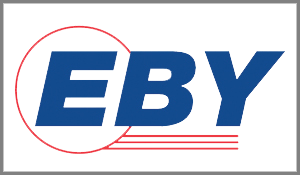 EBY LIVESTOCK TRAILERS
Founded in 1938, M.H. Eby, Inc has been a pioneer in the design and construction of transportation equipment for livestock. A leader in the manufacturing of large semi-trailers for commercial livestock hauling, the company uses the same technology to produce the industry's most durable aluminum gooseneck and bumper hitch trailers. EBY is one of the oldest manufacturers of aluminum livestock trailers and continues to develop advanced designs for:
ADDED STRENGTH
EXTENDED PRODUCT LIFE
ENHANCED FUEL ECONOMY
USER CONVENIENCE
CARGO SAFTEY
Eby livestock trailers offer four levels of trailers.
The Maverick LS is affordable to won and economical to pull. These quality built trailers offer fuel-efficient, light weight designs, and feature many of the same components and construction qualities of their commercial models.
The Maverick, Eby's best selling model offers premium standard features including cast aluminum corners, skid plates, diamond plate aluminum floor with a ridge for strength, led lights, 7k Dexter Axles, and a choice of side patterns.
The Wrangler Series Eby trailers offers unmatched versatility in a production trailer with a wider choice of widths, heights, and custom options. They are available in both slat sides and punch side models.
Ruff Neck, the model that started it all, is Eby's legendary top of the line design in a commercial livestock trailer. Eby's Ruff Neck is most rugged design for commercial livestock haulers, show enthusiasts, commercial swine operations and draft horse transportation.
For more information about EBY trailers visit: www.mheby.com